Subscribe to Our Newsletter
Our monthly newsletter, The Voter, is emailed monthly to all members and other interested people. It is full of news about what's going on in our community, event dates, volunteer opportunities, and more. Email lwvnaperville.thevoter@gmail.com if you want to be added to the mailing list.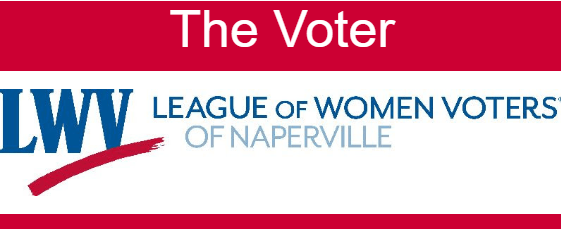 Recent Editions of The Voter
August 2021 – (The Voter was on vacation in July) Judy Brodhead gets candid; Votes for Women virtual theater; back-to-school speakers
June 2021 
Annual Meeting announcement; Naperville Strategic Plan link and information; Meet Naperville's First DEI Manager, Geneace Williams
May 2021 – The Future of Feminism program; National John Lewis Voting Rights Advancement Action Day; announcing evening book group; April election results.
April 2021  – Ellen Annette Martin; 1000 postcard reminders to vote mailed; Sustainable Naprville 2036; about Achieving Independence and Mobility Center for Independent Living (AIM-CIL)
March 2021 – Know your registration deadlines; learn about Immigrant Solidarity DuPage; Mouse Book Club
February 2021 
LWVIL Issues Briefing; VOTE411.org and getting ready for the April 6 election; Candidate Forums
January 2021 – Looking Back at 2020 and Forward to 2021; Seeking new Board Members; Our First Centennial Sustaining Donors; Conversation – Status and Privilege; Criminal Justice Consensus Meeting; About the Islamic Center of Naperville and more
December 2020 – Become a Sustaining Member; Over 100 Members; Naperville City Council Proposed Ethics Reform; Abou PFLAG; Nominating Committee Inquiries
November 2020 – Election Recap; New Membership Director; Criminal Justice Update
October 2020 – One month to election day: FAQ's and other important information.
September 2020 – Commemorating the centennial of the adoption of the 19th Amendment; upcoming candidate forums; election and voting information
August 2020 – 19th Amendment Centennial Events; vote-by-mail information, and more