Civic Awareness Series: How the World Perceives America

Civic Awareness Series: How the World Perceives America
May 11 @ 7:00 pm

-

8:00 pm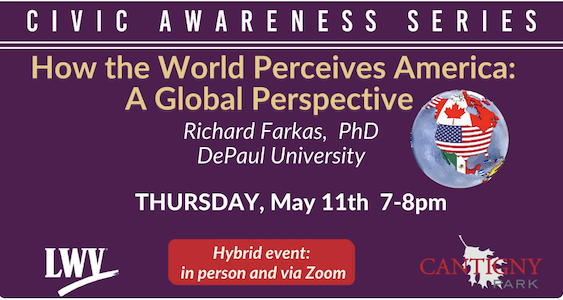 Join us on May 11th at 7:00 pm for the Civic Awareness Series: How the World Perceives America.
Americans are disinclined to see themselves as others see them, which limits what the U.S. can accomplish in international affairs. This program will explore American "exceptionalism" and the notion that only Americans have a keen insight into global problems and solutions. This series is co-sponsored with Cantigny and area Leagues, including ours. Our speaker, Dr. Richard Farkus, will discuss how hyperpartisanship in America's political landscape affects global perceptions.
 Be prepared for a thought-provoking evening that challenges conventional thinking and encourages ideas without borders.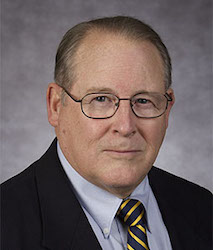 Dr. Farkas has been teaching at DePaul University for over 40 years. He holds a Ph.D. from the University of South Carolina and an honorary degree from Corvinus University. He has lectured in Russia, Poland, Hungary, and Croatia. His research compares political and economic development strategies in post-Communist and post-conflict countries. He has consulted for some of the U.S.'s largest corporations and has frequently appeared on U.S. and international media.
 The program is offered as a hybrid. You will need to register whether you plan to attend in-person and Zoom. To register in person, you will need to make a login account on the Cantigny site.
You will use this account for all Civic Awareness tickets in the future. You can submit your questions to ccorrigan@fdmuseum.org or blaimins@gmail.com.
Please use the Q&A button located on the bottom of the Zoom screen when asking questions during the event.
Co-hosting Leagues: Central Kane CountyRoselle/Bloomingdale Additional Event Hosts: League of Women Voters of Glen Ellyn, and Cantigny Park.