Friday Book Group – Beyond Belief, Beyond Conscience: The Radical Significance of the Free Exercise of Religion

Friday Book Group – Beyond Belief, Beyond Conscience: The Radical Significance of the Free Exercise of Religion
March 17 @ 12:30 pm

-

1:30 pm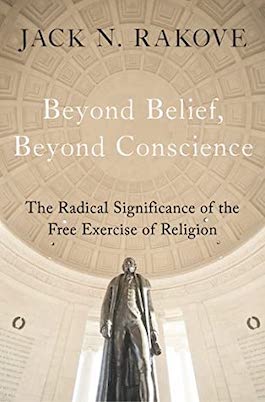 By Jack Rakove
From goodreads.com:
In Beyond Belief, Beyond Conscience, Pulitzer Prize-winning author Jack Rakove tracks the unique course of religious freedom in America.
As Rakove explains, America's intense religiosity eventually created a new set of problems for mapping the relationship between church and state. He goes on to examine some of our contemporary controversies over church and state not from the vantage point of legal doctrine, but of the deeper history that gave the U.S. its own approach to religious freedom. In this book, he tells the story of how American ideas of religious toleration and free exercise evolved over time, and why questions of church and state still vex us.
Zoom discussions take place at 12:30pm on the 3rd Friday of each month and at 7pm on the following Tuesday. You are welcome to join us for either discussion (or both!) whenever time or interest allows by registering.
Discussion zoom registration links:
Register for the 3/17 at 12:30 pm event.
Register for the 3/21 at 7:00 pm event.