Naperville City Council Candidate Forum

Naperville City Council Candidate Forum
February 20 @ 7:00 pm

-

8:00 pm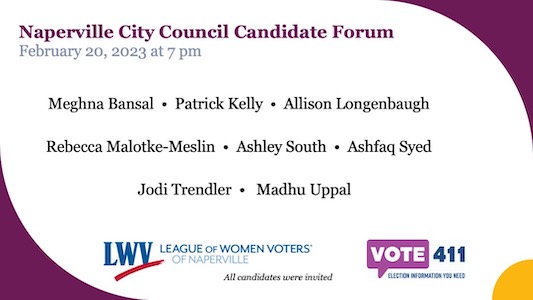 Naperville City Council Candidate Forum
Hear from the Candidates!
Meghna Bansal
Patrick Kelly
Allison Longenbaugh
Rebecca Malotke-Meslin
Ashley South
Ashfaq Syed 
Jodi Trendler
Madhu Uppal
All candidates have been invited. This event is free, but please register. 
How a Candidate Forum Works
All candidate forums/Q&A are run by trained, non-partisan moderators from outside the district. Equal time is given to all candidates to answer each question. Opening statements, responses and closing statements are all timed.
The candidates will present an opening statement, in turn, alphabetically.
Questions will be chosen in advance by the League for appropriateness and relevance from those solicited from League members as well as community members. The moderator will ask questions in rotation so that each candidate will have the opportunity to be the first to answer.
After the questions are completed, each candidate will provide a closing statement, continuing the alternating pattern.
No surrogates are permitted to participate. An uncontested forum, that is, one with only one candidate, is not permitted.
All of these events will be held virtually via Zoom Webinar. We will also be streaming live on Facebook. A recorded version of each event will be available on our YouTube channel and Facebook after the event.