Tuesday Book Group – Bring Home the War: The White Power Movement and Paramilitary American

Tuesday Book Group – Bring Home the War: The White Power Movement and Paramilitary American
October 18, 2022 @ 7:30 pm

-

9:00 pm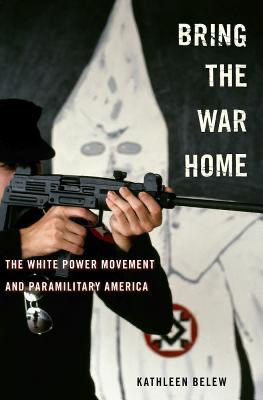 Bring Home the War: The White Power Movement and Paramilitary American
By Kathleen Belew
From goodreads.com:
In Bring the War Home, Kathleen Belew gives us the history of a movement that consolidated in the 1970s and 1980s around a potent sense of betrayal in the Vietnam War and made tragic headlines in Waco and Ruby Ridge and with the Oklahoma City bombing and is resurgent under President Trump.
Belew's disturbing and timely history reminds us that war cannot be contained in time and space: grievances intensify and violence becomes a logical course of action. Based on years of deep immersion in previously classified FBI files and on extensive interviews, Bring the War Home tells the story of American paramilitarism and the birth of the alt-right.
Book Group welcomes LWVN members and nonmembers. Attending one discussion does not commit a reader to attend others.
Register below to receive the Zoom link. After registering, you receive a confirmation email containing information about joining the meeting.