Civic Awareness Series: Join Jim Slusher from the Daily Herald

Civic Awareness Series: Join Jim Slusher from the Daily Herald
February 9 @ 7:00 pm

-

8:00 pm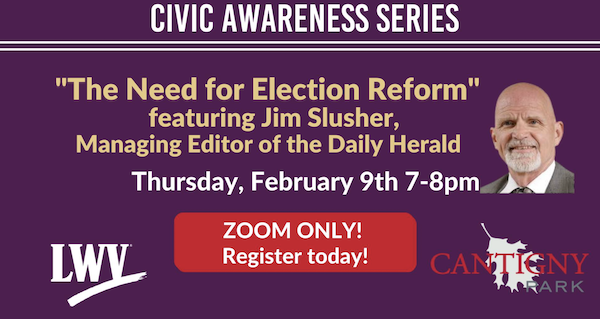 Join Jim Slusher from the Daily Herald Editorial Board to discuss election issues that need more discussion. 
Recently the Daily Herald held a series of editorials focusing on a variety of election issues that have not gotten much attention in the news or, for that matter, in public policy discussions in Illinois.  The goal was to spark discussion, consider how we select candidates and make decisions through the ballot box.  Join in the discussion examining possible reforms that have not been examined closely and perhaps can lead to a restored faith in our elections. 
s Assistant Managing Editor for Opinion and Administration,  Jim Slusher oversees editorial writing, the selection of syndicated columns and cartoons, and letters to the editor for the Daily Herald Opinion Page. Working with an editorial board made up of top editors in the Daily Herald newsroom, he helps shape the newspaper's voice on subjects of interest to suburban readers while seeking to present an engaging mix of opinions on broad social and political topics along with a forum for local residents to present their views on whatever topics they consider important.
This event is part of the Civics Awareness Series sponsored by Cantigny Park and the Leagues of Women Voters of Roselle-Bloomingdale, Central Kane County,  Glen Ellyn, Wheaton, and Naperville. 
The event is free and open to all. Please register.
You can submit your questions to ccorrigan@fdmuseum.org or blaimins@gmail.com.  Please use the Q&A button located on the bottom of the Zoom screen when asking questions during the event.