Day of Action: Moore v. Harper Rally

Day of Action: Moore v. Harper Rally
December 7, 2022 @ 4:00 pm

-

5:00 pm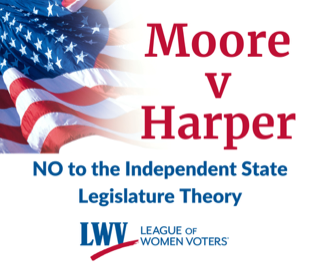 Moore v. Harper: the most important Supreme Court case you have never heard of!
This Wednesday, December 7, SCOTUS will hear oral arguments in Moore v. Harper, which concerns the so-called "independent state legislature theory" (ISLT), which, if adopted, would have far-reaching implications for the future of American democracy.
LWVUS will be rallying on the SCOTUS steps during oral arguments.
Locally we will be having a sister rally with other DuPage County Leagues.
Our speaker will be Sania Irwin, the national Vice President of the League of Women Voters.
Join us on Wednesday to make your voice heard!
Wednesday, December 7, 4pm
DuPage County Courthouse, 505 North County Farm Road
"Giving states unchecked power to set rules for federal elections is an assault on the American voter," said Virginia Kase Solomón, CEO of the League of Women Voters of the US. "Historically, state legislatures have enacted the most harmful and suppressive anti-voter laws, and pro-voter groups like the League have relied on the ability to fight them in state courts. The Independent State Legislature Theory is a dangerous, fringe ideology that leaves voters effectively defenseless from harmful election laws." See less