Naperville's Coal Problem and What We Can Do About It – N.E.S.T September Community Meeting

Naperville's Coal Problem and What We Can Do About It – N.E.S.T September Community Meeting
September 25 @ 7:00 pm

-

8:30 pm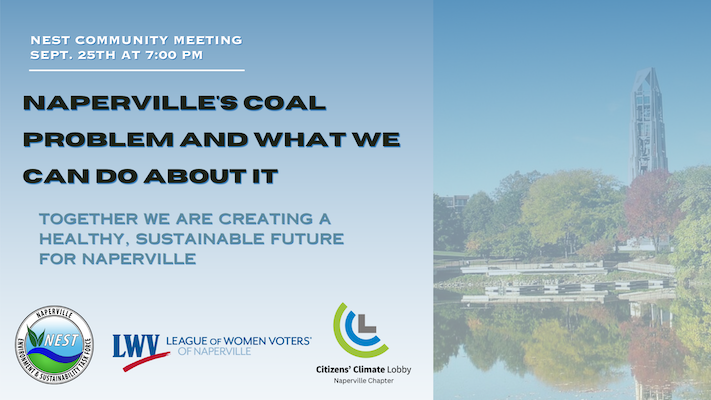 Don't miss this opportunity to learn from Scott Allen from Citizen's Utility Board (CUB) on how Illinois is progressing on transitioning from coal to clean energy and how Naperville can participate. Naperville Environment and Sustainability Task Force (NEST) leaders will provide background information on our current electricity contract and how residents of Naperville can advocate for the decarbonization of our electricity supply.
Naperville can move to clean energy with your help! Demonstrate to our elected officials community support for reducing carbon pollution.
This event will be held on September 25, 2023, at the Naperville Municipal Center, Naperville City Council Chambers from 7:00 p.m. to 8:30 p.m. This event is free, but please let us know you'll be attending by registering, as we anticipate a large crowd.